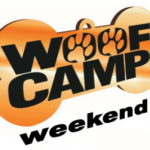 Woof Camp "Scholarships" give away
Congrats to the winners…. 15 pups and Handlers will have their packages sponsored by SquarePeg: Tiger, Chip and Handler, Kobalt, Alpha Lokie, Spathic, Buster, Jeff, Scrat, Gizmo, Alex, Trix, Tyler, Pooka and Turtle.
So Woof Camp is holding its first ever weekend event in San Francisco this coming Easter Weekend with about 9 hours of full on puppy mosh scheduled over 2 days. Lots of room to play along with a great opportunity to meet and network with other pups and handlers from all over. click here for their official program. This is of course the same group that puts on the infamous puppy mosh at IML every year.
I'm proud to be a sponsor of such a great event and a great group of pups and Handlers.  But, if you haven't been able to get your weekend package and would like to attend, I'll also be sponsoring several pups and Handlers to go revel in the puppy glory themselves.
Drawings will be held on March 24th. To submit your name just send an email to me (drawing now closed) with the subject line "Woof Camp".  Be sure to include how you would like to be identified, and only one entry per pup or Handler please. Submission deadline is Sunday March 23 at 11:59pm. You will be notified by return email on the 24th if you have won and will receive more details from the organizers about registration. No cash value. Package does not include travel, optional meals or housing. (legal stuff-boo)
https://www.squarepegtoys.com/wp/wp-content/uploads/2014/01/woofcamplogo-150x150.png
150
150
Scott Douglas
/wp/wp-content/uploads/2018/06/Copper.png
Scott Douglas
2014-03-16 14:04:25
2019-04-16 17:13:42
Woof Camp "Scholarships" give away